Seoul is a city like no other, with enough stuff to do to keep you occupied for months. In this year's (2016) version (our fourth installment), we have expanded the list to 70 fantastic places to see in the Korean capital. As always, it is in descending order for dramatic purposes.
Note – I've tried to make the map as accurate as possible by placing it at the coordinates of the front door of most of these locations. Please let me know if you notice any inaccuracies!
70) Silim-dong Gosichon / 신림동 고시촌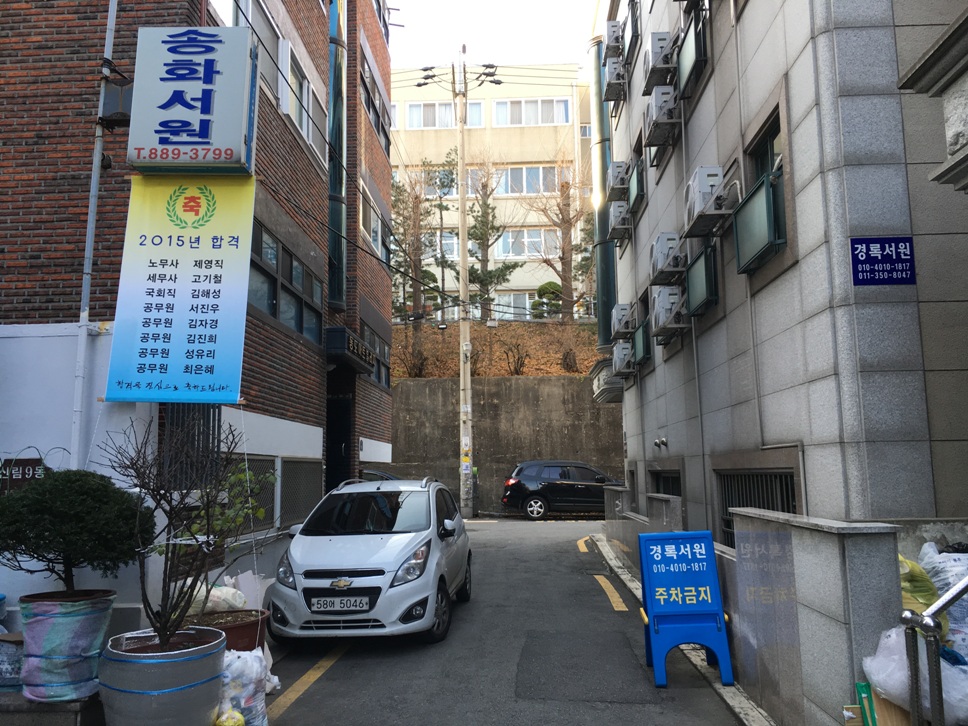 Silim-dong is important in more recent history as a testament to the competitive atmosphere that is present in modern Korea. From the 1980s to the early 2000s, this area of Seoul was built up with thousands of tiny habitations for students studying for anything from university entrance exams to exams required for government positions. While the building up has contracted in the last decade, walking around you can still see goshiwons proudly display the accomplishments of their most recent residents. The food is also excellent in this area!
69) Daegaksa / 대각사
This very modest temple located adjacent to Jongmyo has some wonderful paintings on its recently refurbished buildings. What sets it apart, however, it its historical importance as the "mecca of the Independence Movement, on March 1st, 1911" as it is proudly displayed on a plaque near the front gate. From here, the head monks and local resistance leaders spoke out for an independent Korea and an end to the Japanese Occupation which was barely getting warmed up.
68) Hyehwamun Gate  / Dongsomun  / 혜화문
Located in my very own back yard is the Hyehwa Gate. This massive doorway was used as an auxiliary entrance to the much more popular Dongdaemun Gate. Although it is quite easy to reach, it get very few visitors, which means you will likely have it all to yourself.
67) Tomb of Sejong the Great / 세종 대왕릉
The tomb to Korea's greatest hero is located in Yeoju, which makes it a bit of a stretch to be considered "in Seoul," but close enough. Before you get to the actual tomb, you are greeted with a very good outdoor museum with replicas of Sejong's accomplishments, and a modest museum to top it off. It is a bit out of the way, but definitely worth the trip.
66) Hwangudan Altar, Gate, and Stone Drums / 환구단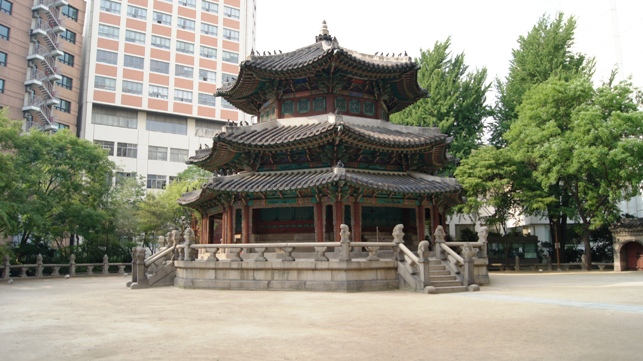 The Hwangudan Altar is the last remaining structure of this complex built in 1897. The king himself used to come to the altar to help administer the 'rite of heaven,' a performance and 1000 year old tradition leading back to the Goryeo Dynasty. The ritual ensures that Korea will have a good harvest and luck the following year. As very few people know of its existence, you are likely to be the only one there.
The stone drums were built in 1902 to honor Emperor Gojong of Joseon, the last effective king of Korea. The use of stone is a sign of the art of the time, and is one of the few original relics of this era of the Joseon dynasty.
The Hwangudan gate is the doorway that leads to the altar of the same name and the stone drums. One fun fact is that until 2007, it was used as the door to a hotel because no one knew of its historical significance! Now, it is easily visible from City Hall, or if you have really good eyes, from Deoksu Palace.
65) Cheongyecheon / 청계천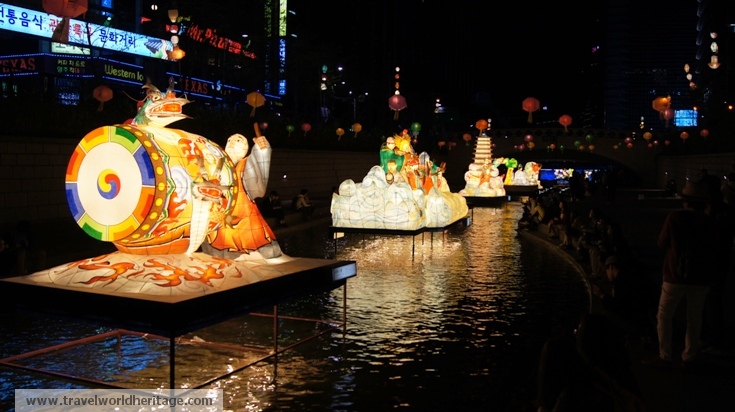 This small stream located in the heart of Seoul is a nice little getaway from the chaos of the busy city. The project was completed not too long ago, and it definitely has that modern feel. Walk along the bottom of the stream for a bit and you might run into some interesting art along the walls. During lantern season (May and November), the stream is also adorned with beautiful Buddhist lanterns and is by far the best time to visit.
64) Play Doci / 플레이 도시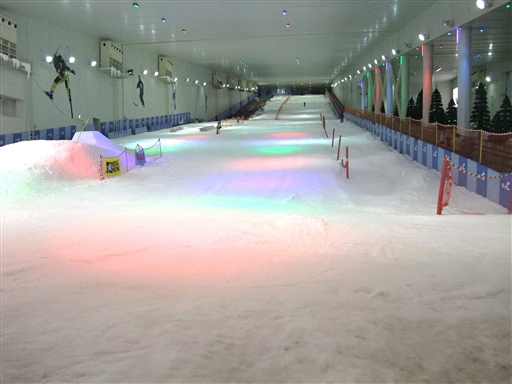 This theme park just outside the city limits to the west is part water park, golf course, and my favorite, an indoor ski slope. The other two I can do without, but the ability to ski in the summer is pretty awesome. While the slope is pretty basic and rather short, it is really cheap with numerous discounts offered (check their website) and a great way to practice in the time leading to ski season.
63) Banpo Bridge Musical Rainbow Fountain / 반포대교 달빛무지개분수
This musical fountain has the distinction of being the longest in the world as it runs the length of the Banpo Bridge. It plays about 2-3 times per hour and rainbow lights flare it up at night. It has been called a top 10 fountain in the world and is definitely worth a look, especially on a nice summer night.
62) Gapyeong / 가평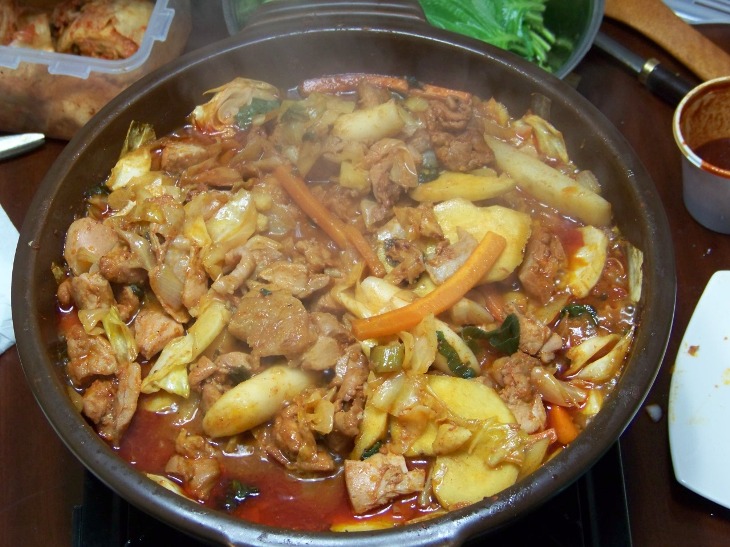 Gapyeong is a town on the very outskirts of the greater Seoul area and a popular destination for Koreans. While I am not very fond of Nami Island, the food is divine and Gapyeong's 'Dalk Galbi' rivals that of even Chuncheon, where the dish was invented. In addition to Namiseom, there is also a bungee jump and two zip lines for the adrenaline junkies out there.
61) Tapgol Park / 탑골공원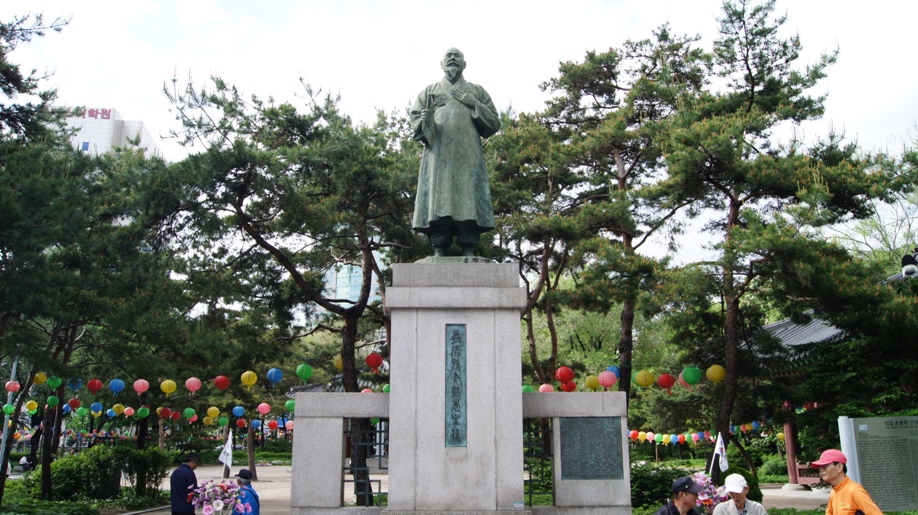 Tapgol Park is a very small green space towards the southern end of Insadong. From the outside, it is very unassuming and you might even walk right next to it without noticing so take a good look at the map provided above. Older people like to go here to relax and indulge in a little Korean history which you might want to take part in after a full day of sight seeing and stuffing your face with amazing Korean food in Insadong. There are a few relics of note, including a large stone pagoda that sits at the rear of the park.
60) Boshingak Belfry /  보신각 터
Jongno is the district containing the Bosingak Belfry, which is sometimes called the "Jonggak Bell" because of its proximity to Jonggak Station. In ancient times, the bell was rung to signify the opening or closing of the city gates, as well as emergencies that arose. These days, it is only rung every New Year's by the mayor of Seoul, and occasionally, a top Buddhist monk. You can think of it like the crystal ball that drops in Times Square, but Korean style. While you can see it anytime, nothing beats the energy of being here on New Year's Eve.
59) Sunshin Women's University Area / 성신여대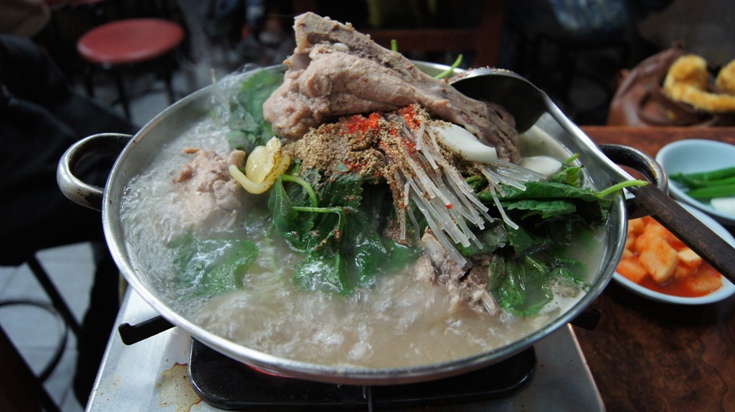 This rather small commercial district in north eastern Seoul has tons of interesting shopping and an ever growing number of restaurants. I lived not far from here and every time I tried to explore more, I found something new and cool. Some finds include an ultra cheap arcade (300 won), one of the best deli sandwich spots in the entire city (The Sandwich House), and right off the station is the absolute best restaurant in all of Seoul: Taejo Kamjaguk / 태조감자국.
58) Bukaksan Park / 북악산 공원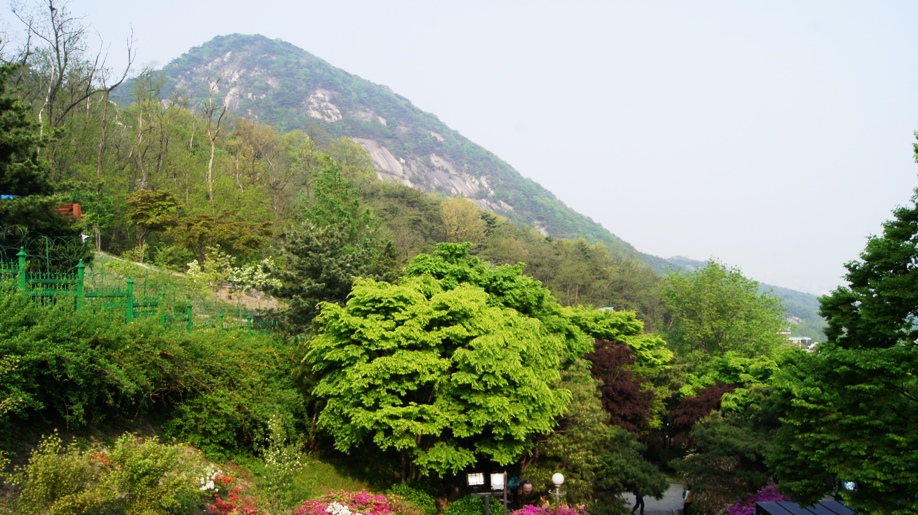 Not to be confused with the national park, Buk-AK-san is a large city park directly behind the royal palace of  Gyeongbokgung. Portions of the Seoul Wall run through it, and it is a great place to spend a spring day hiking through the bush.
57) 63 Building / 63 빌딩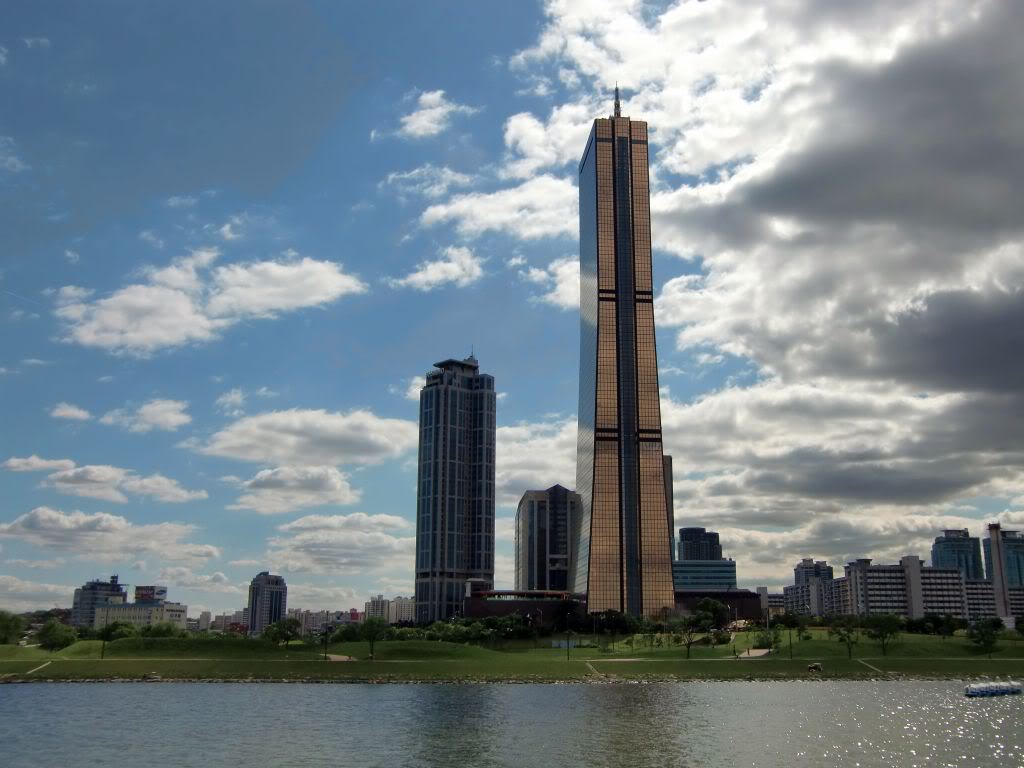 Once the tallest building in Korea, the 63 building is a beautifully golden tower overlooking the Han River. It signifies Korea's rapid growth known as the Miracle on the Han. Within the building is an observation tower, art galleries, and its very own aquarium.
56) Seonjeongreung and Jeongreung / 선정릉 + 정릉
These tombs are part of the UNESCO World Heritage Site – the Royal Tombs of the Joseon Dynasty. While there are better tombs in Seoul, these are the easiest to access for those on a time crunch. They are walking distance from Gangnam Station, and are also accessible thorugh their own subway stop: Seolleung Station. All of the Joseon Dynasty kings and queens are preserved in tombs like this one all over the greater Seoul area.
55) Bukhansan National Park / 북한산 국립공원
Bukhansan is one of Korea's 21 National Parks and by far the closest to Seoul. It is the perfect place to indulge in one of the biggest Korean pastimes: HIKING! You can enter from either the west or the east of the park, but I recommend the former as it is a more picturesque walk. There is also a cool hike that leads to a fortress gate that was part of a fortification during the Joseon era.
54) Seoul Station (Old) / (옛날) 서울역
Old Seoul Station started operation more than 100 years ago, but is no longer in operation. It was re-opened a few years ago after years of refurbishing and is home to the occasional art collection and of course, a history lesson. It is located right next to the new station and serves as a symbol of Korea's industrialization of the 20th century.
53) Seoul Station (New) / (새) 서울역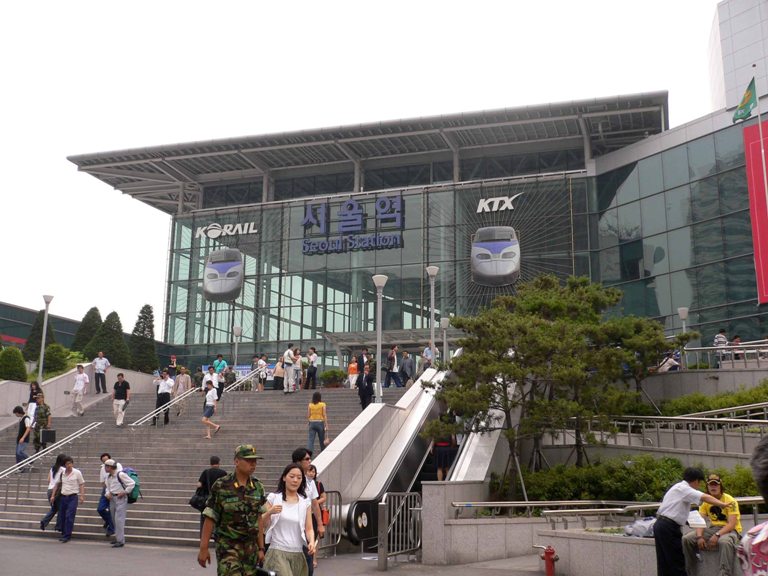 Seoul Station is a large, modern facility and a major transportation hub from the capital to the rest of the country. One cool thing you can do is catch a glimpse (or ride) one of the 300kph KTX bullet trains. You don't even have to get a ticket to get some good views if you don't want to ride as there are no checkpoints before actually boarding the train (and even then…). I have a bit of a fascination with train stations and if you do too, this one will not disappoint.
Note – The 'no checkpoint' thing is scheduled to change in the near future, so check to make sure :).
52) Taereung / 태릉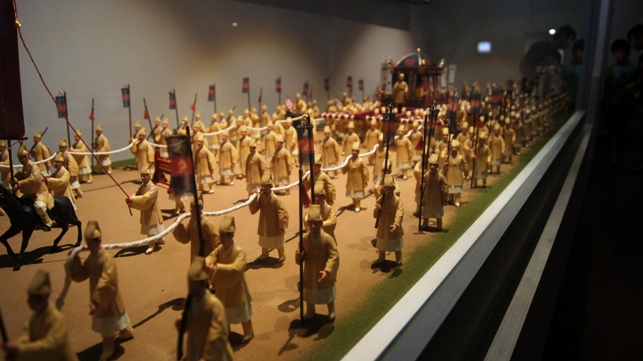 Taereung is the royal tomb of Queen Munjeong. While not particularly stellar compared to the other royal tombs, this one has an interesting museum that explains how the tombs are built. If you are into Korean history, you will find this tiny but informative museum quite fascinating. Given its location from central Seoul, none of the signs were in English, but one of the workers was delighted to show me around and translate.
51) Trick Eye Museum / 트릭아이 뮤지엄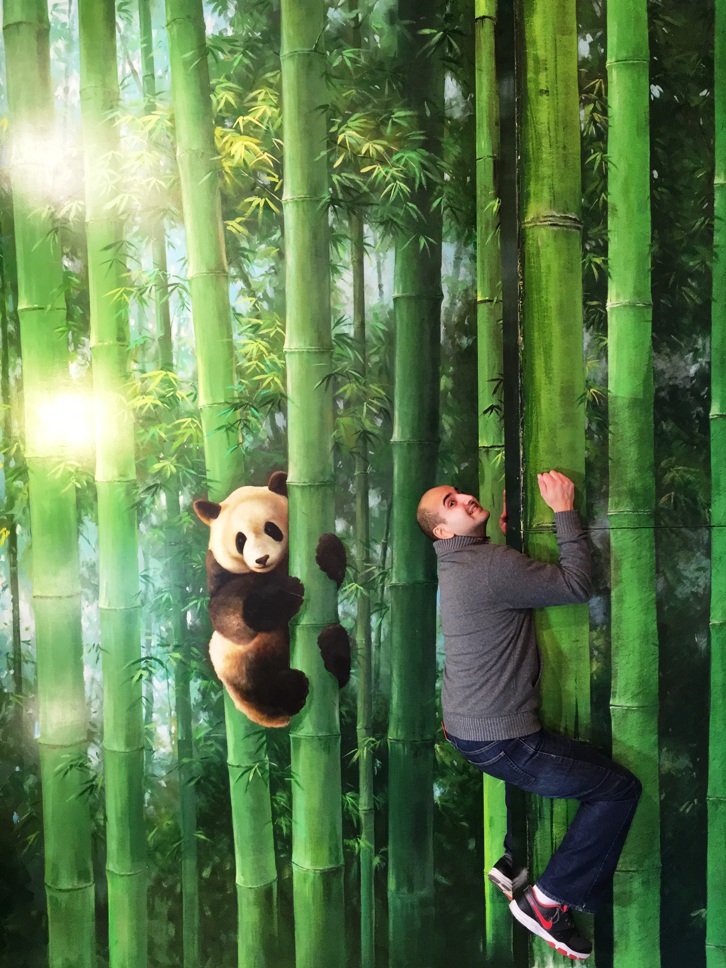 The Trick Eye Museum, Seoul is one of three such museums in the country . It contains a wide variety of paintings that produce a three-dimensional optical illusion when viewed (or photographed) from a certain angle. While I have been to other similar museums before in Korea (by different companies), I was pleasantly surprised at the maintenance, organization, and variety of this one, with plenty of room and explanation for each piece.
Other activities exist in the massive underground complex, with my favorite being the Hanbok Experience Dress Cinema. Here, they doll you up (ladies) or suit you up (gentlemen) in traditional attire for a very unique photo shoot. Located in the heart of Hongdae (further down the list), it is very conveniently placed to visit between your evening dinner plans and that late night clubbing.
50) Unhyeon Palace (Unhyeogung) / 운현궁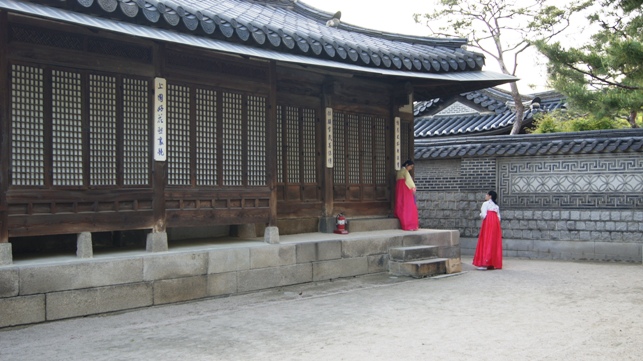 Located near Anguk station, it is quite amazing how few people visit this tiny but delightful place. It was originally built during the Joseon Dynasty for the in-laws of the king to stay in Seoul without having them in the main palace which is across the street (I guess THAT tradition goes back generations). It is not very glamorous at all, but has a tranquility to it that is quite refreshing. Oh, and it's free!
One pretty cool thing is that they allow wedding pictures to be taken here. From the signs within Unhyeongung, it also looks like full weddings are allowed under certain conditions. Who doesn't want to get married in an actual palace? Along with Deoksugung palace, Unhyeongung offers a Royal Palace Experience with Hanbok rentals at a very modest 3,300 won!
49) Itaewon / 이태원
Itaewon is one of the largest international neighborhoods of Seoul. You can find foods of all kinds here, from authentic Mexican to Paraguayan delights. While its nightlife can be somewhat sketchy at times, there are tons of options from nice restaurants and lounges, to some of the diviest dive bars around. In more recent times, plenty of more respectable clubs and bars have become popular, so there is a little something for everyone.
48) Apgujeong Rodeo Street / 압구정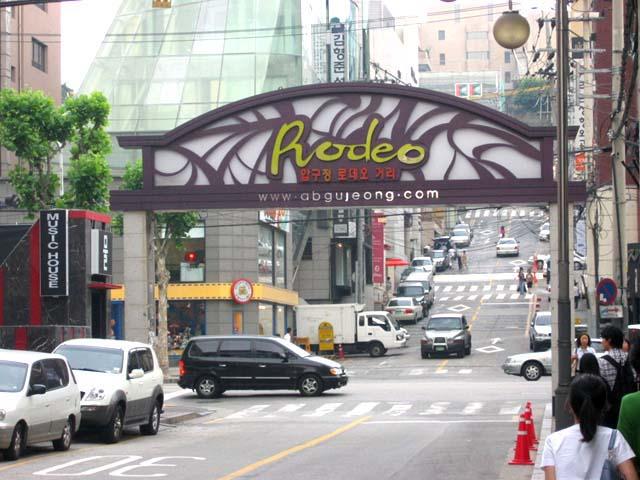 Apgujeong is a new-ish place where young people come together and shop till they drop. Dozens of boutiques and chain stores have anything your heart desires. If this is your thing, by all means, don't miss out, but make sure you bring plenty of credit cards! If you stay late there are some nightlife spots here, too.
47) Lotte World / 롯데 월드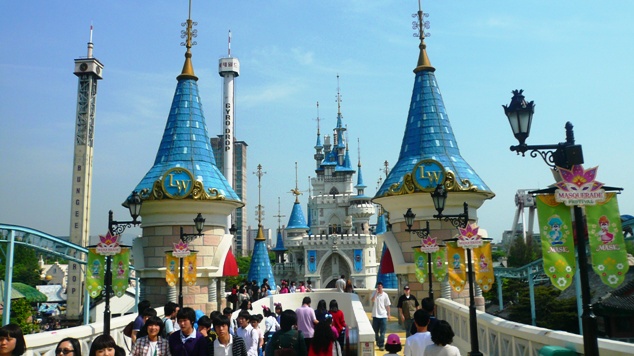 Lotte World is one of only two 'world class amusement parks' in Korea. Yeah, I didn't know that classification existed either, but it does! While nowhere near the size, magnitude, or detail of Disneyland, Lotte World has its charms.
One of the things I like the most about this park is how efficiently it was built (what a nerd). Real Estate comes at a premium in such a small country, so the engineers managed to load up a bunch of rides in a 4-floor indoor complex and an additional outdoor adjunct which has parts of the park run underground! The rides are pretty fun even if the mascots are rather cheesy. Then again, who thought a mouse as a mascot would be a hit?
Pro Tip: Discounts are often offered with coupons at the airport so don't be afraid to ask the information booths at Incheon.
46) Hangang Park (Ttukseom Resort) / 한강 공원 (뚝섬유원지)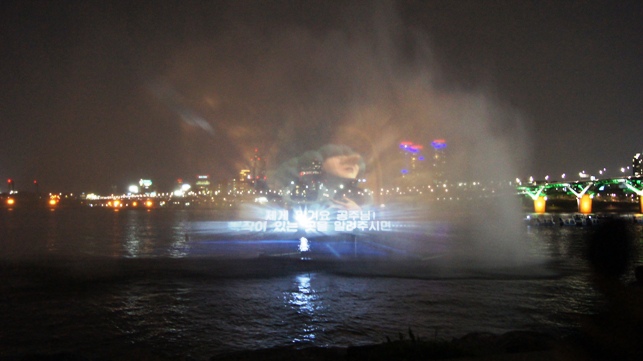 Hangang Park is a name loosely applied to the entire recreational area north and south of the Han River, with about a dozen entry points and some parts more "park-like" than others. Ttukseom resort is one of the more popular spots, especially in the summer. You can rent bicycles, watch live performances, enjoy the public pool, or just take a stroll along the river. Another good spot is on the south side by the Banpo Bridge, where you can view the before mentioned Banpo Musical Fountain.
While Hangang park is busy all day long, it is especially enjoyable late at night when the crowds have dispersed. If you are comfortable ordering in Korean, delivery places are more than happy to bring you some chicken or pizza, riverfront!
45) National Museum of Korean Contemporary History / 대한민국 역사 박물관
The National Museum of Korean Contemporary History was inaugurated on December, 2012 as a semi-interactive way to display the last fifty years or so of Korean history. It is conveniently located on Sejong-no, right in front of Gyeongbok Palace. If you are curious about how Korea developed after the Korean War to the creation of the Galaxy S3, this is the museum for you.
44) Sinsa Shopping District (Garosu Street) / 신사 가로수길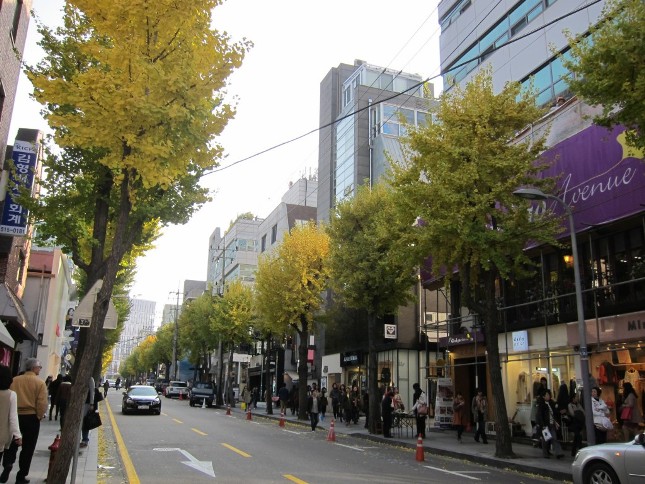 Sinsa is one of the major shopping areas of Seoul. Conveniently located between Gangnam and Apgujeong, Sinsa focuses on a more boutique-like feel, but also contains many chain-stores and fine dining options. Because if its fame and location south of the Han River, it carries a heftier price tag than other places in Seoul. Nonetheless, is a good way to spend an afternoon, even if you are just window shopping like me. I'm not gonna lie… I just come for the free samples.
43) Seodaemun Prison / 서대문형무소역사관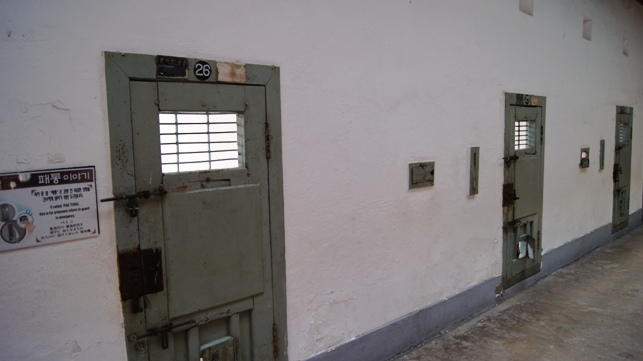 During the Japanese occupation, Seodaemun Prison was used to lock up dissidents and pretty much anyone who refused to accept the new status quo. Those brave people who dared to stand up to the brutality that included forced prostitution, murder, and the destruction of anything culturally Korean (including all of the palaces) are honored in this preserved prison. Make sure to bring a Korean to translate as there are no English signs of any kind. You might also want to bring some tissues. You've been warned.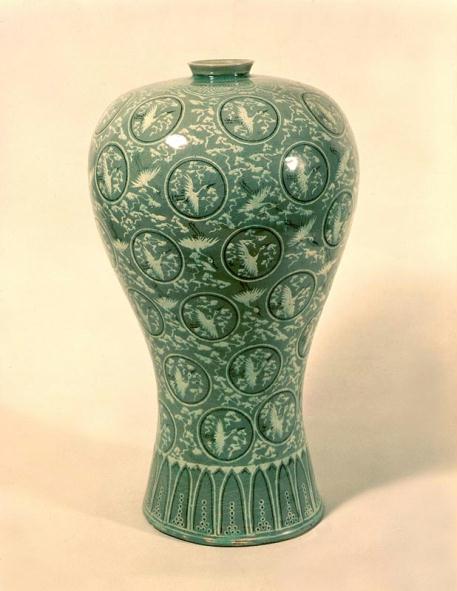 This private museum in Songbuk-dong, Seoul contains what many consider to be some of the most important relics of ancient Korea. They include the Hunminjeongeum, the original manuscript detailing the formation of the Korean language from the 15th century AND the Thousand Crane Vase (pictured above), popularized to English audiences by Linda Sue Park's novel A Single Shard. As a disclaimer, I should note that I haven't visited the actual museum as it is only open twice a year (spring and summer) and I found out about it around November of 2015. However, as luck would have it, I also found out of a second location where the collection is displayed.
Every year, the Dongdaemun DDP Plaza holds an exhibit with part of the Kansong Art and Culture Collection, similar to the partial display they do every season in their own museum. It is said that the collection is too massive to display in either location, giving further incentive to visit more than once. The current exhibition at time of writing (Jan, 2016) is fantastic and holds some of Korea's finest art.
41) Sinchon, Yonsei University Area / 신촌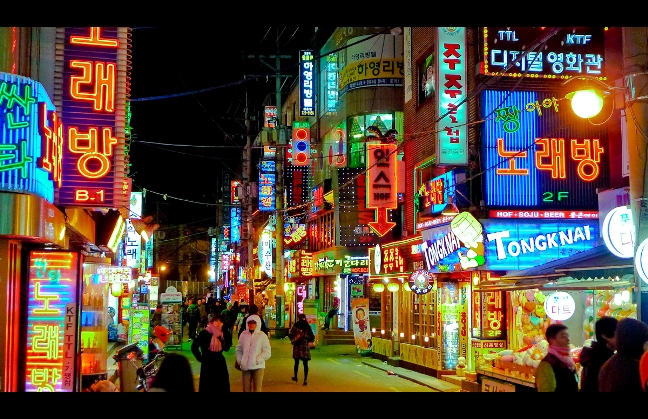 In addition to being one of the top 3 universities in Korea, Yosei also has one of the most happening areas right across its front gate. The Sinchon area is a great place for food, shopping, and nightlife. Be careful though… nah, what am I saying… go nuts!
40) Dongmyo Market / 동묘 시장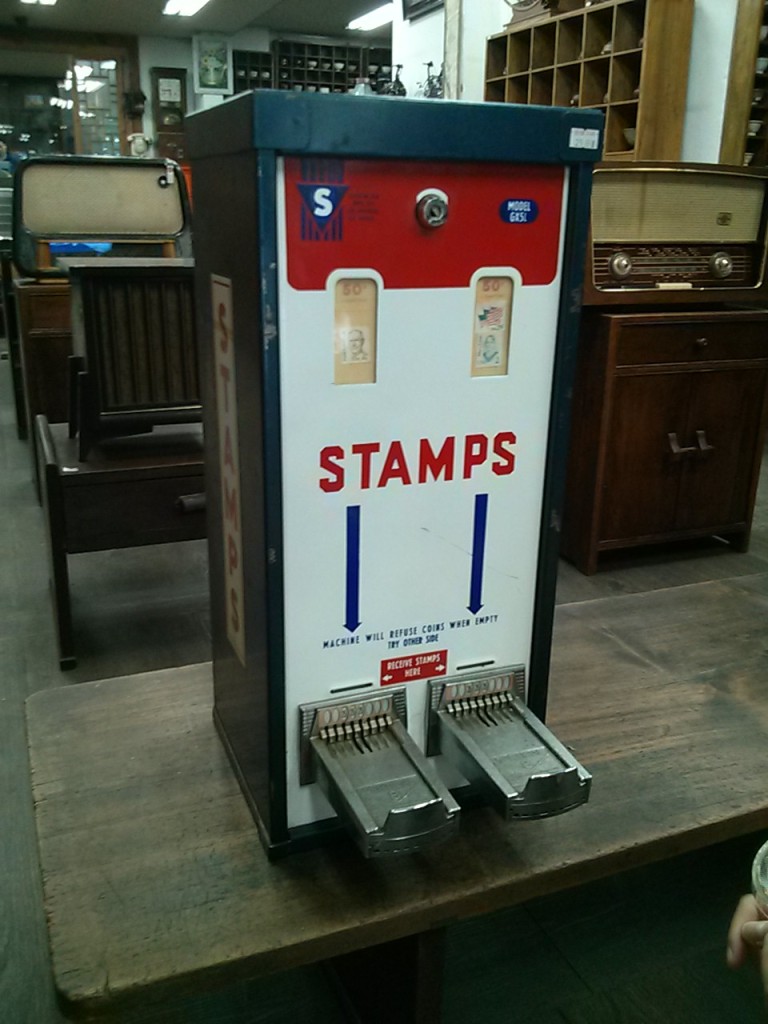 Even a few years ago, this was nothing more than a local marketplace you only stumbled upon if you are already in the area (as I did back in 2012). It has been recently popularized by a few Korean shows and is definitely worth a look. Antiques are the name of the game here, with anything from traditional Korean instruments to vintage US post machines available if the price is right.
39) Bukchon Hanok Village / 북촌

My first visit to Bukchon, I fell in love. This otherwise ordinary neighborhood is lined with some of the most beautiful traditional 'hanok style' houses still around. For those looking for a special kind of accommodation, Bukchon also has a number of hanok guesthouses, conveniently located walking distance from Changdeok Palace and Insadong. Come in the early evening, and you might catch a fantastic sunset, and then have dinner in one of the many excellent restaurants in the area.
38) Yongsan Electronics Market / 용산 전자 상가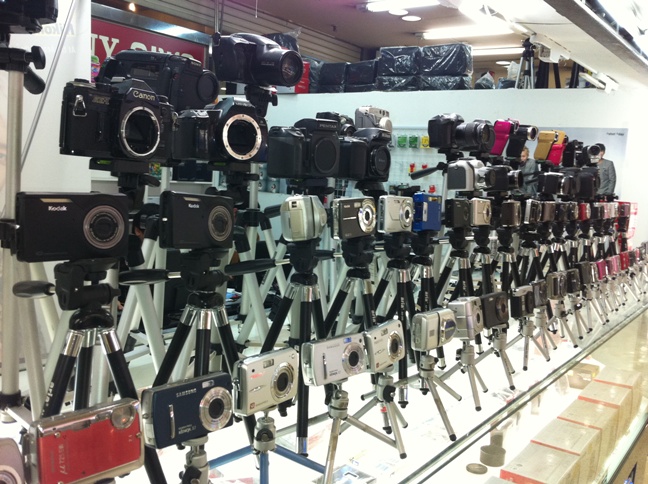 Many foreigners come expecting electronics to be cheap, given Korea's reputation as a leader in the industry. They are not and you will find even domestic brands such as Samsung more expensive than abroad. However, the magnitude of hundreds of electronic shops in such a small place itself is something you have to see to believe.
Pro Tip: While buying electronics is expensive, services such as fixing a computer or camera cleaning is relatively cheap in Korea. I fixed my old Asus laptop here for $30 after being quoted over $200 in the US.
37) Jong-no Area / 종로
Jongno is another district of Seoul with fantastic Korean food, entertainment, and all around good times. Whether you're in the mood for churros, jjim dalk, or a game of beer pong, Jongno is ready to deliver. It is also in close proximity to historical sites like the Boshingak Belfry and the very pretty Cheongye Stream. After a full day of palace viewing, walk on over to Jongno to wrap up the night.
36) Bukdaemun / Sukjeongmun / 숙정문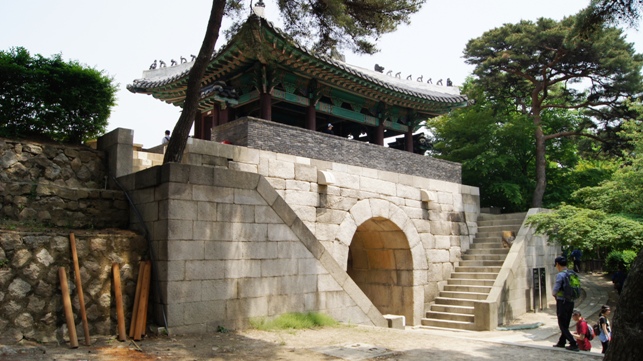 While lots of people have heard of Namdaemun and Dongdaemun, few have heard of the third remaining great gate of Seoul. Bukdaemun, also known as Sukjeongmun, is located in Bukaksan park (not to be confused with Bukhansan National Park), on the north side of the Seoul Wall. One of the things that makes this gate interesting is that you have to go through a military checkpoint just to see it!
It is believed that the 1968 assassination attempt of the South Korean president by North Korean agents was carried out after they got a good view of the presidential house from Bukdaemun. Imagine if there was a big tourist attraction on a hill directly behind the White House, and you can see how this could be a real security threat. Make sure to bring your ID or your passport as they will not let you enter otherwise.
35) Hyehwa's Daehak-ro / University Street / 혜화 대학로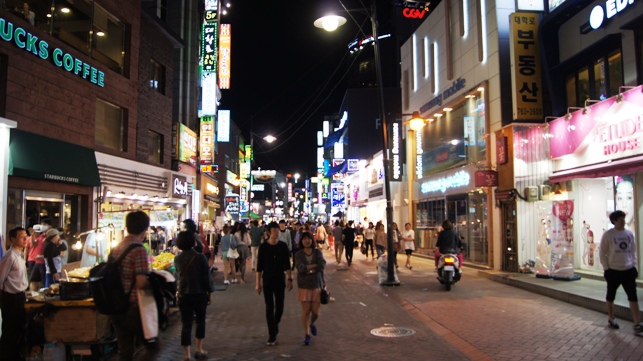 Hyehwa is an area famous for its dozens of theaters making it one of the artistic centers of Seoul. Unfortunately, very few plays are in English, but that doesn't mean Hyehwa has nothing to offer. You can often see some abstract art sculptures, galleries, and even the odd street performance right off the subway exit. In recent years, it has also opened up a good variety of foreign food restaurants including Italian, Chinese, Indian, Mexican, American (breakfast / burgers), Thai, Japanese, and even a Turkish spot in one of the alleys. If you come for dinner, there are a number of interesting bars for a crowd that prefers to chill with a beer instead of going hard all night long. My personal favorite is the "junk bar" (not the actual name of the bar) which seems to have slapped their decorations together with what they found in a dumpster, from mattress coils to really old liquor bottles. Definitely an odd but interesting place to have a beer.
Bias alert: This area was my home for around three years, so I am particularly fond of it.
34) Gyeonghui Palace (Gyeonghuigung) / 경희궁
Gyeonghuigung is one of the five great palaces of the Joseon Dynasty which was unfortunately destroyed during the Japanese occupation. It has been recently rebuilt and although smaller than the original, it is still an interesting place to visit away from the crowds. If you are into those off the beaten paths, look no further than Gyeonghuigung.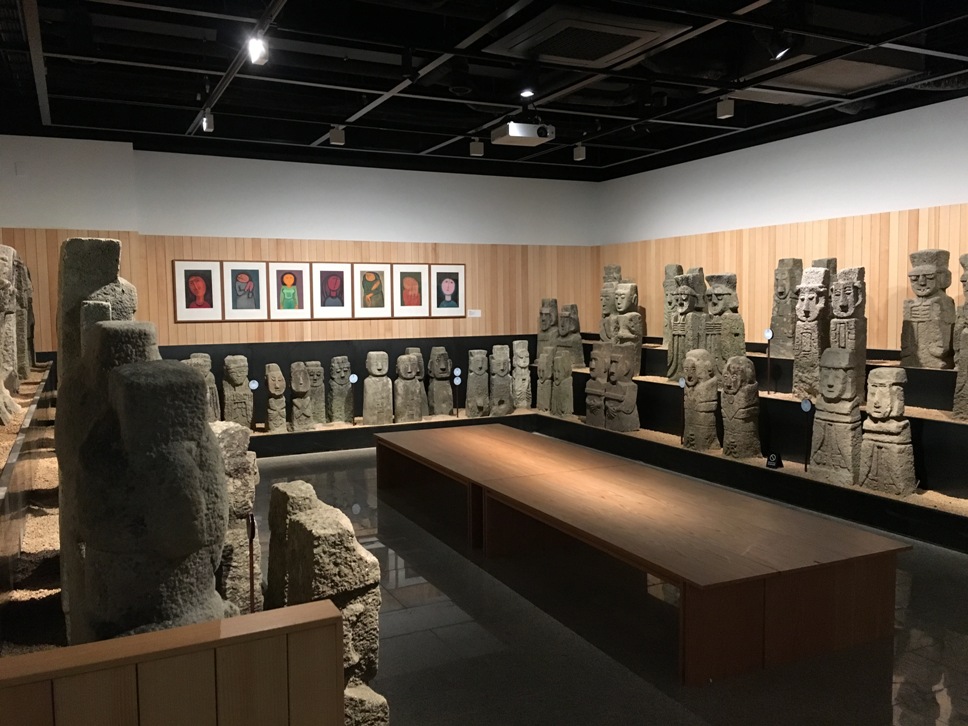 This museum recently underwent an expansion and a reopening a few months ago. It is a bit pricey at 7,000 won, but totally worth it considering the sheer amount of pieces they possess. Located within an area of Seoul where many foreign diplomats live gives it an additional serene ambiance in contrast to the ever fast-paced rest of the city.
Oh yeah, about the museum! A local enthusiast has spent over four decades collecting stone works from all over the country. Totems big and small are displayed in the fantastic indoor and outdoor museum which you will likely have to share with only a handful of visitors.
32) Seoul Medicinal Market and Gyeongdong Market / 서울 약 령 시장 & 경동 시장
Seoul Medicinal Market, located in Jegi-dong, sells ginseng, mushrooms, and other herbs used in 'eastern medicine.' It is a historical market that has been around for at least 500 years and is the largest in Korea. The Gyeongdong market is less specialized and sells anything from medicine to shoes to groceries. It is a great place to try some fantastic Korean food and street vendors are abundant. It is hard not to group these as they are adjacent to each other and it is difficult to see where one ends and the other begins.
31) Dongdaemun History and Culture Park / 동대문 역사문화 공원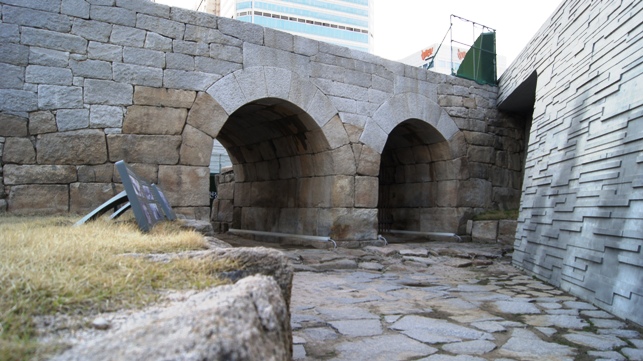 The subway stop formerly known as "Dongdaemun Stadium" was renamed upon the stadium's demolition and an astonishing discovery that threw everyone for a loop. A large section of the original Seoul Wall was uncovered underneath the rubble. This part was like none of the other remaining parts as it had flood gates perfectly preserved. To an archaeology buff, there are few things more amazing than finding a 600 year old part of history.
30) Konguk University Area / 건대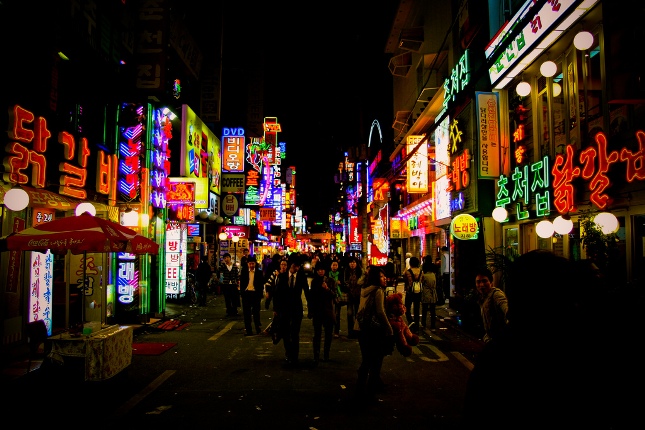 The Kongguk university area, or Kongdae for short, is one of the largest commercial districts in all of Seoul. Its abundance of college students (I make them sound like a natural resource) also means that there are plenty of places to have a great meal or drinks on a budget. With some places offering all you can drink cocktails for a mere $15 USD, this place just can't be beat. Join the hundreds of young people any day of the week and you'll surely have a great time.
29) Jongmyo Shrine / 종묘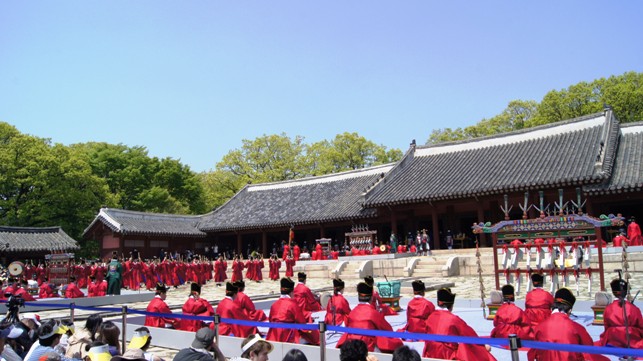 Jongmyo is a Confucian Shrine holding the spirits of every Joseon King since the dynasty's formation in 1392. Every may, there is a huge festival known as Jaerye / Daerye with performances, parades, and ritual offerings. This tradition has gone nearly uninterrupted for six centuries. On regular days, entry to this UNESCO World Heritage site is by guided tour only as there are very few explanations (if any) throughout the entire complex.
28) Seoul Wall / 서울 도시성
The Seoul Wall was initially built at the turn of the 15th century by the first kings of the Joseon dynasty. Back then, building a huge wall around your city was all the rage and everyone was doing it, so why not Seoul! Many sections still remain or have been refurbished in a push to restore Korean historical structures in the last few decades. My favorite part of the wall is directly west of the Hyehwa gate in northern Seoul. It is a bit tricky to reach, but the location on the map (provided on the first page of this post) points to this section of the wall. It is up for consideration as a UNESCO World Heritage site in a year or two.
27) N. Seoul Tower / N. 서울 타워
Namsan Seoul Tower is the best place to get a good panoramic view of Seoul. The tower is built on the top of Namsan Mountain. To get to the entrance, many guidebooks will tell you to take the cable cart to the summit, a terrible idea. The line is 2 hours long (if you're lucky) and the real view is from the top of the tower anyways, so don't waste your time and money. The best way to get up there is to take one of the 'Namsan' buses (green color) off of Chungmuro Station (or Hoehyeon). They are much faster (10 minute wait), cheaper (1 USD), and environmentally friendly (electric). Conversely, you could also hike up to the summit, which is an excellent walk along parts of the Seoul Wall. This is a good activity to do late at night at it is open till midnight on Friday and Saturday. Bring your significant other though, as this site pushes the couple feel a bit much.
26) Jogye Temple (Jogye-sa) / 조계사
As the head of Korean Zen Buddhism, Jogyesa is considered to be the most important temple in Seoul, despite not being one of the three jewel temples. While not remote or as elaborate as Haeinsa, the main hall and its golden Buddhas are stunning. During Buddhist holidays, many lanterns decorate the entire place and there is even a huge parade that leads to it on Buddha's birthday. Despite being in central Seoul and right next to Insadong (later on the list), it is not as crowded as you would expect. If you are interested in a 'Templestay,' the headquarters for the program is located across the street.
25) Seoul Museum of History / 서울 역사 박물관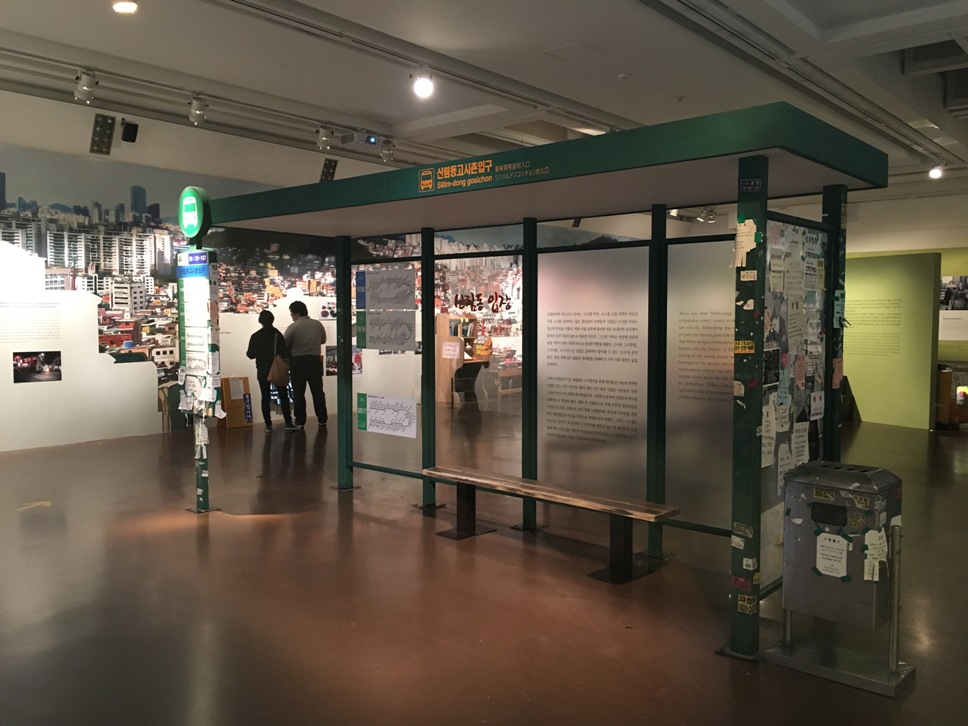 This centuries old city had a very interesting history which is beautifully captured in this museum. The most impressive exhibits are the two full city miniatures on the second floor which give you a sense of just how massive the megalopolis really is.
24) Deoksu Palace / Deoksugung / 덕수궁
The newest and most complete of the five great palaces of Seoul is Deoksugung, located next to city hall. This palace was the residence of choice for the last Joseon emperor, and his self-proclaimed "Great Han Empire." In a bid to modernize Korea, European style architecture was introduced across the country and this royal home was no exception. One of the central buildings that looks strange and out of place with its Greek-like columns is in fact, original.
Recently, the city has introduced an "Experience Royal Palace Life" project to enhance your visit, complete with free hanboks for you to try in this palace.
23) Namhansanseong Fortress / 남한산성
Namhansanseong is a mountain fortress and a recently added UNESCO World Heritage Site located south-east of Seoul. The site has been famous since the 7th century as the birthplace of King Onjo, first monarch of the Baekje Kingdom. The wall we see today was built in the 17th century and was the place of a heroic battle against the invading Manchus.
While it is becoming more and more popular, most people stick to the small village located within the fortress with has some awesome Korean delights. For some peace of mind, take a stroll along the wall and the farther you get from the main gates, the fewer people you will see. Many temples are located inside and are also quite impressive.
22) Donggureung /

동구릉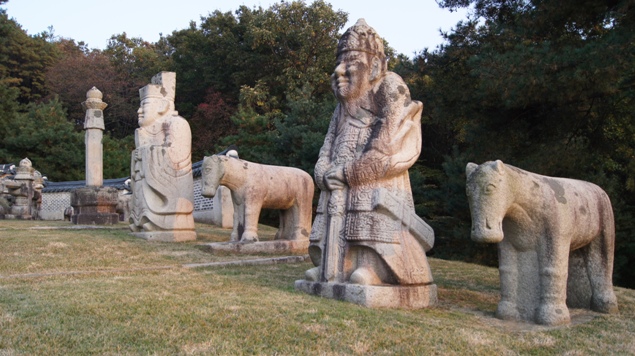 Donggureung is one of the 18 sites forming the Royal Tombs of the Joseon Dynasty, but by far the most impressive. The complete set of 40 tombs has been preserved despite the Japanese colonization. The story goes that during Japan's attempt at culturally liquidating Korea, the entrusted grave-keepers lied and insisted they were tombs of their direct family. The trick worked, and today, this UNESCO World Heritage Site remains intact.
21) Namdaemun Gate / Sungnyemun / 숭례문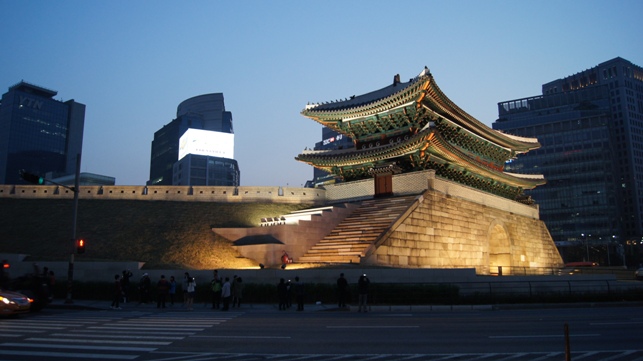 The Southern Gate of Seoul, also known as Namdaemun or Sungnyemun is classified as historical treasure #1, so we can determine with certainty that they were not numbered in alphabetical order! Lame jokes aside, this gate is the largest of the remaining six great gates of Seoul. In 2008, the wooden tower that sits on top was burned down by an act of arson. As of May of 2013 it had been repaired and reopened to the public. I was actually there during the grand reopening and was interviewed by SBS, so you might have seen me on TV!
20) Noryangjin Fish Market / 노량진 수산 시장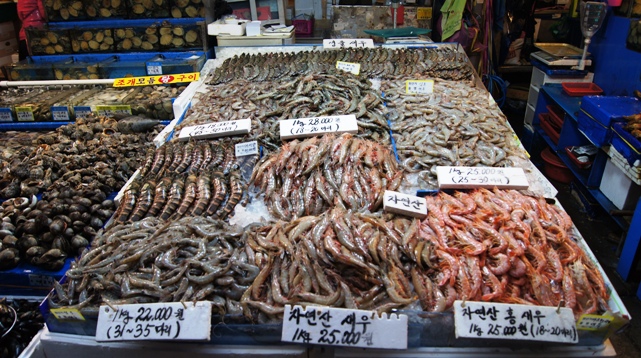 Located off of Noryangjin Station, this famous fish market is a depot for some of the freshest seafood around. Ever seen shark heads or wanted to try manta ray? Maybe the freshest salmon around is of your liking? Pretty much any local and edible type of seafood is available and if you are so inclined, there are tons of places just one floor up to eat your recent purchase immediately. My experience in Noyrangjin made a huge impression and my stomach can't wait to go back.
19) Dongdaemun Market / 동대문 시장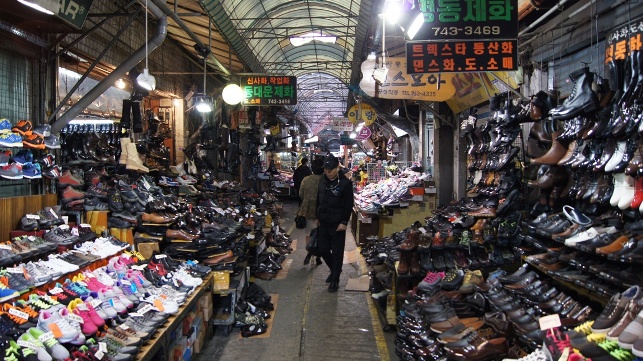 Dongdaemun Market is a combination of indoor and outdoor markets located around the Dongdaemun gate in central Seoul. It is famous for having some of the cheapest clothes around to fit everyone's shopping needs. It also has quite a few shops that are open 24 hours, so if you feel like shopping at 3am, by all means, Dongdaemun Market awaits.
18) Dongdaemun Gate / Heunginjimun /

동대문
The Big Eastern Gate ('dong' means east, 'dae' means big, 'mun' means 'gate'…you're already learning Korean!) is the second largest remaining doorway to the previously walled city of Seoul. The rear has a fortress loop which was used as an additional sentry station. For more than 600 years, it has left visitors in awe, and I predict you will be no different.
17) National Folk Museum of Korea /

국립 민

속 박몰관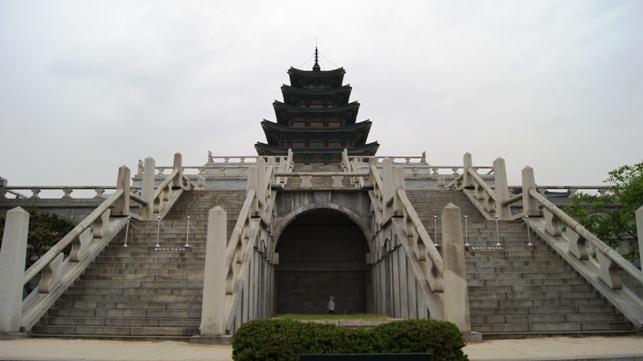 The National Folk Museum displays a brief history of Korea since the dawn of humanity on the peninsula till the end of the Great Korean Empire in 1911. This museum is a small version of the National Museum of Korea, which is convenient for those pressed for time. Its location within Gyeongbok Palace adds to the convenience and the entrance is hard to miss given its towering and beautiful pagoda is visible from pretty much anywhere within the palace.
16) Sejong and Admiral Yi Museums /

세종

이야기

&

이순신

이야기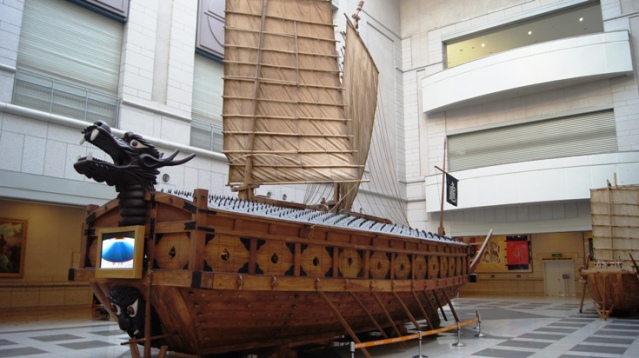 I am constantly surprised at how many don't even know this place exists. King Sejong and Admiral Yi Sun Shin are the two greatest heroes in Korean history. So, where are their museums? Shouldn't they be in the center of the city for all to see? Turns out, they are! The museums are located underground, directly beneath their famous statues on "Sejong Street." This area is always filled with people, but their museums are never crowded. I think no one knows where the entrance is!
To get inside, take the seemingly unimportant door behind the golden statue of King Sejong. Of note is a replica of Yi's turtle ship, a 4D movie about Admiral Yi's battles against the Japanese, and you can even be taught to write your name in Korean with calligraphy brushes, all for free! In addition, foreigners are allowed to write their name twice so they can leave one there, and take one as a souvenir.
15) Changgyeong Palace /

창경궁
Changgyeonggung is another one of the five great palaces of Seoul. While it has always served as secondary to Gyeongbokgung or Changdeokgung, it is nonetheless impressive. Like Changdeok, it also has a garden out back where visitors can go on a hike and forget that they are in the middle of one of the most populated cities in the world.
There is one incredibly weird feature that kind of blew me away. There is a huge stone jar out in the garden that was used to store the umbilical cords and other gooey fetal fluids from the royal children for generations. As far as I can tell, this was never destroyed by the Japanese, and might in fact, still be original. That's some pretty nasty history right there.
14) Insadong / 인사동
The long road known as Insadong was first commissioned to be a place for artists to display their works and sell traditional Korean art in the form of calligraphy, paintings and carved masks a little over a decade ago. As time went on, many shopkeepers realized that visitors were far more keen on buying key chains and chopsticks, than their art. While the original products remained, they became a front for the far more booming "knick-knack" industry. Since this area has special tax breaks for the purpose of promoting Korean culture, the government was not too happy.
In the last two years or so, Insadong has begun to clean up its act with art galleries (most of which are free) and the traditional arts sold side by side with the souvenir shops. One personal favorite is an old master calligrapher who sets up shop in the middle of the street. He always draws a crowd with his skills, so it is hard to miss him.
Pro Tip: Namdaemun Market has the same souvenirs for cheaper. If you must shop here though, buy from the side streets as the price difference is enormous.
13) Gangnam Shopping District / 강남대로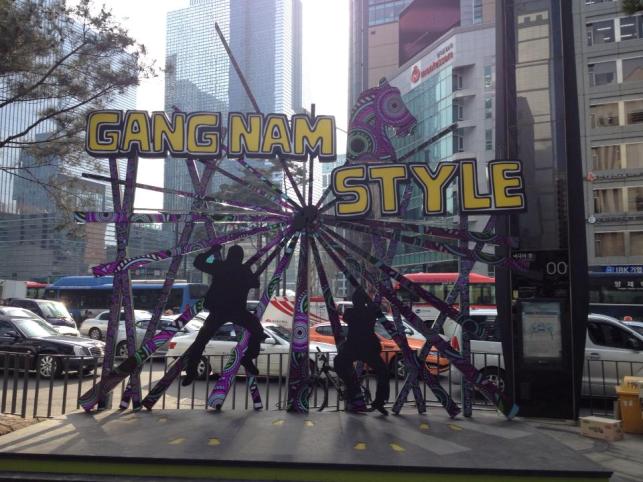 Gangnam literally means "south of the river" pointing to its geographical position relative to the Han River. It is one of the busiest commercial districts of Seoul, popularized worldwide by the god-awful song, "Gangnam Style." Despite my personal objections to that tune, the district is a great place for shopping, finding a great restaurant, or having a few drinks. If clubs are your thing, just off of the main Gangnam strip are a number of bars and clubs to shake it all night long, including Octagon, ranked the #6 best club in the world. Make sure to come with a full wallet as Gangnam tends to cater to the wealthier Seoul crowd.
12) Bongeun Temple (Bongeun-sa) / 봉은사
Bongeunsa is a Buddhist temple in southern Seoul that has a history spanning over 1000 years. One of its best features is the huge Buddha on the north-west side  which towers above the surrounding area. English 'Templestays' are available as well tours and daily tea ceremonies. The time around Buddha's birthday (April-May) is great time visit when the complex is adorned by beautiful paper lanterns.
11) Hwaseong Fortress /

화성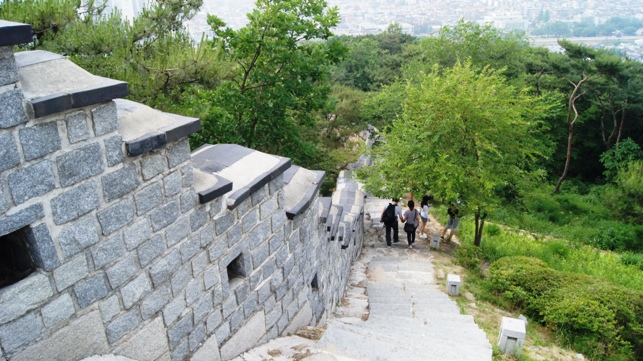 About an hour south of Seoul (or a couple of minutes by bullet train) is Suwon City, which holds the majestic Hwaseong Fortress. This UNESCO World Heritage Site is the best preserved city wall in  Korea. You can walk along its nearly 6km circumference in this mini-version of the great one in China. Some of its best features are the water gate, incredible tile art in the center, and the archery sessions going on every day on the north east corner.
10) Namdaemun Market / Namdaemun Sijang /

남대문

시장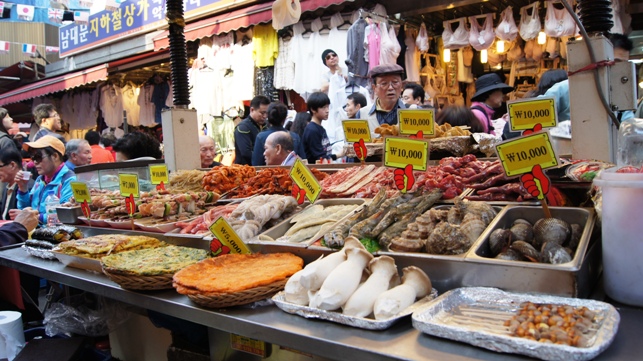 Namdaemun Market is Korea's most famous traditional marketplace. The main alley (directly out of Hoehyeon Station Exit 5) is the most crowded and leads directly to Namdaemun Gate. It is a gastronomical wonderland, but can seem a little intimidating to Korean food beginners. Make sure to come on an empty stomach, don't be afraid to experiment, and for a little guidance, take this list of the best Korean foods to know what to look for.
The side alleys are your best bet for more food options and awesome deals for anything from souvenirs, to pots and pans (yes, really). Don't be afraid to haggle when buying things in bulk (especially gifts), but in general, the prices will already be pretty reasonably priced and Korea doesn't make a habit of trying to rip off foreigners. You are unlikely to get more than a 10-15% discount. If you are looking for a hanbok, you can probably find a cheap one (relatively speaking) here, too.
9) Myeongdong Shopping District /

명동
Of all the main shopping districts of Seoul, Myeongdong best portrays the hyper-shopping culture that is present in modern day Korea. If you have ever seen pictures of Seoul, and there is a very busy street with a million neon signs, shopping galore, and just insane crowds, you probably saw Myeongdong. There are dozens of international chain stores (Zara, Mango, Uniqlo, H&M) as well as smaller boutiques and cheaper outside stalls selling everything from scarves to cosmetics to chicken on a stick.
The symbolism of this area is something of note too. While it is difficult to believe now, as late as the 1980s, the US was beginning to doubt it backed the right Korea. Poverty was up, democracy was still not implemented (military dictatorship), and in many ways, the South seemed to be lagging behind the North! In just 30 years following the "Miracle on the Han" South Korea has become one of the world's top 15 economic powerhouses. While it might be the '63 building' that symbolizes that growth, it is in reality, places like Myeongdong that continuously display prosperity.
Note:  A recent pet peeve I have (and the main reason for the drop in ranking this year from #4 last year) is the near doubling of street food prices in Myeongdong. It is absolutely absurd for me, but I suppose it might not be a big deal for a visitor to pay 2,000 won instead of 700 for some egg bread.
8) Gwangjang Traditional Market / 광장 시장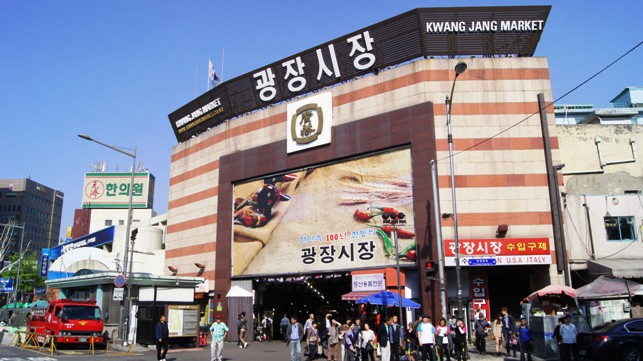 The centrally located Gwangjang market is one of the more interesting destinations in Seoul. It has been gaining popularity these days with foreigners, but still retains its authentic charms. The two main things you will find here are textiles and food. Walk around for a bit to work out an appetite and check out the thousands of hanboks (the traditional Korean attire) on display. The best thing about this market is definitely the food, though, not gonna lie! They have colorfully named "Mayak" kimbap (Mayak means 'narcotic'), and definitely, the best kimchi dumplings you will ever taste. On my most recent visit, I also tried some of the communal seafood dishes (served for 2 people or more) which was fantastic.
For expats: There are a couple of shops here that have imported snacks and other products from the US. This place is the reason I always had American Cheetos on hand. Furthermore, one of the biggest costume shops for Halloween is adjacent to this market.
7) The War Memorial of Korea /

전쟁념관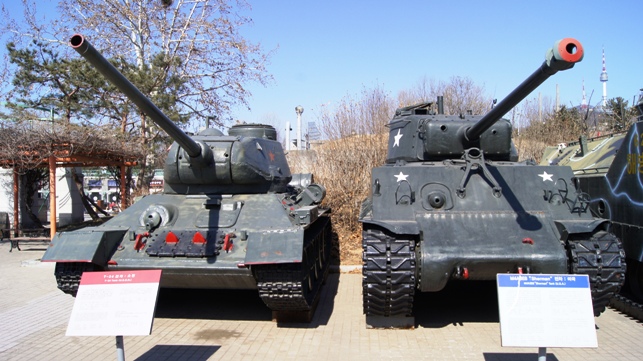 The outdoor part of the War Memorial Museum is best seen in the daylight as there are many airplanes, tanks, artillery, and even a ship from the era of the Korean War. The sheer number of relics is extremely impressive. The interior of the museum holds relics and demonstrations going back since the beginning of humanity appearing on the Korean peninsula. There are stone weapons that were used in the Neolithic era, and an eye popping amount of 'evidence' proving why 'Japan is so evil.' Despite the rhetoric, it is truly fascinating, detailing events of conflict with Japan, North Korea, and internal struggles over the millennia. Definitely another must see in Seoul.
6) Sejong Street: Monuments to King Sejong, Admiral Yi, and Gwanghwamun Square /

세종로

,

광화문광장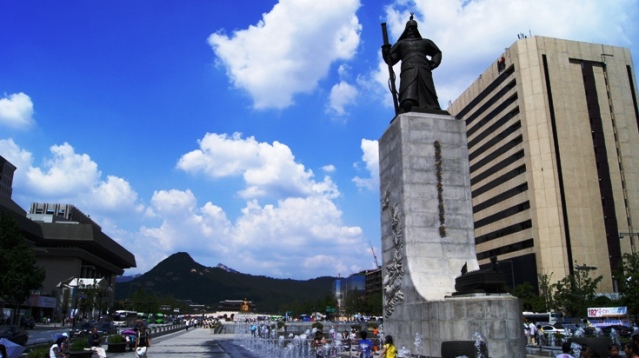 This is probably one of the most iconic photo-op spots in Seoul. On this street are the monuments to the country's two greatest heroes: King Sejong the Great, and Admiral Yi Sun Shin. From one point, you can see the two monuments, the gate of Gyeongbokgung Palace, and Bukaksan Mountain in the background (pictured).
Who is King Sejong the Great?
King Sejong the Great is credited with the invention of Hangeul, the Korean writing system. In the 1400s, Koreans used Chinese script, but Sejong sought to create a simpler system which eventually resulted in this: ㅂㅈㄷㄱㅅㅁㄴㅇㄹ. Modern Korean is phonetic, logical, and easy to pick up the basics as a result. Hangeul continues to be the only wide spread language scripts in the world that can be traced back so a single person.
Who is Admiral Yi?
Have you ever heard of the Mongol Genghis Khan or Sun Tzu, author of The Art of War? Some people consider Yi Sun Shin to be a greater military commander than either of them. He skillfully helped design and used the famed 'turtle ships' to repel Japanese forces. His most incredible accomplishment came in the Battle of Myeongnyang where he defeated 333 Japanese warships with his 13 turtle ships, saving Seoul from a Japanese invasion.  
Got Admiral Yi fever? This new-ish animated series on YouTube should answer all other Yi based questions.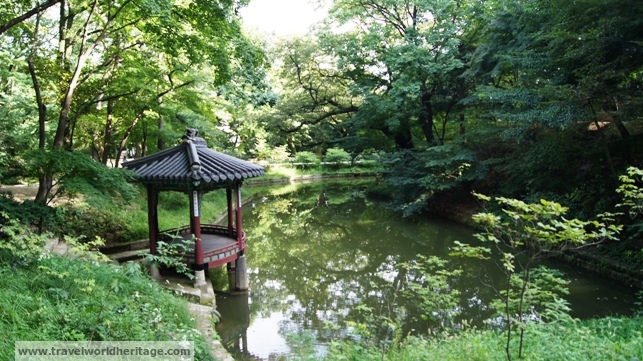 Changdeok Palace is a UNESCO World Heritage Site and considered by many as the most important palace in Korea. After the destruction of Gyeongbok Palace, it became the official residence of the king of the Joseon Dynasty and remains the more authentic of the two palaces. The huge gate, and central buildings are definitely the highlights, but don't miss the Geumcheon bridge near the entrance which is around 600 years old and one of the oldest structures still remaining.
Pro Tip: While individually amazing, many of the royal palaces look similar. If you have a limited amount of time, stick to this one and #1 on the list.
4) DMZ (De-Militarized-Zone) /

한반도

비무장지대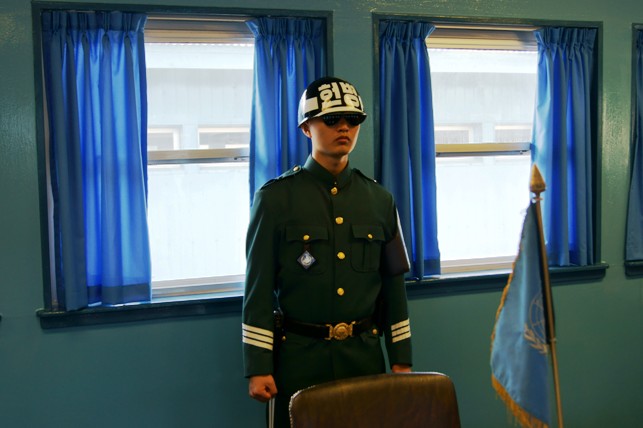 For those of you who live under a rock, the DMZ is the 4 km wide line dividing the DPRK and South Korea. Despite its name, the DMZ is the most heavily guarded border in the world, separating two countries that are culturally, historically, and ethnically homogeneous, but philosophically and politically worlds apart.
Access to the DMZ is by tour only with the highlight being the Joint Security Area. Seriously, the tour is not even worth it without the JSA part. After a very intense briefing by a US military officer, you will be led to the literal line that divides North and South. It is an area on the DMZ without a fence, barbed wire, landmines, and one only needs to take a few steps to be behind enemy lines. This is where the famed blue buildings stand, the UN meeting place to broker deals between the two countries as they have no official diplomatic relations.
Pro Tip: Having visited the DMZ twice, I definitely recommend the USO tour above any other.
3) Hongik University Area (Hongdae) /

홍대
At the #3 spot is, by far, the best place to experience Korean nightlife. The area surrounding Hongik University (shortened to 'Hongdae') is full of bars, dance clubs, restaurants, street food, and more outdoor performances than all of Busan combined. If you feel the need to go hard until 10 in the morning, this is the place to do it. 
Note: Due to constant scuffles, stationed US military soldiers are not allowed in some of the clubs. If you do come as a tourist, bring your passport as proof. For other non-military expats, your Korean ID works just as fine. And as one Kenyan learned the hard way, they cannot tell the difference between an American and a non-American English accent.
2) National Museum of Korea /

국립 중앙 박물관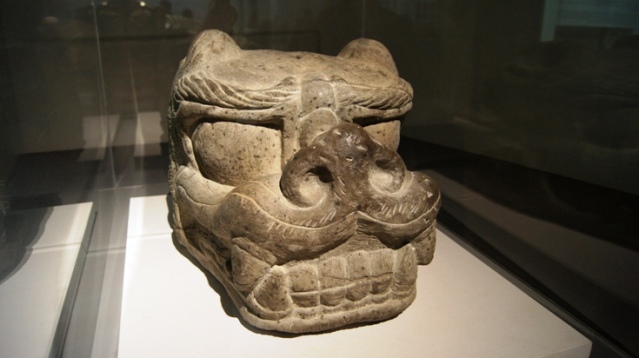 This massive museum holds some of the most important treasures in Korean history. The complex is very well organized in chronological order from bottom to top. It starts with the story of Korea from the Paleolithic era when humans first arrived on the peninsula. From there, it takes us forward in time to the first dynasties, all the way to the end of the Joseon Dynasty in 1911. The top floor has a solid collection of Buddhist art as Buddhism was very influential throughout Korea's long history. The outside of the complex also has many original stone lanterns that have stood for over a thousand years. While there is nothing on the era of Japanese occupation (1911-1945), the Korean War (1950-1953), or modern Korea, the National Museum of Korean Contemporary History and the War Memorial of Korea fill in those gaps. If you take a trip to Seoul, this museum is a must.
For special exhibits, events, and tours, check out the National Museum of Korea's official site.
…but of course, there can only be one #1. So, the best place to visit in all of Seoul is….
1) 

Gyeongbok Palace / Gyeongbokgung /

경복궁
Gyeongbokgung is (still) the absolute best thing to see in Seoul. As you cross the main gate of Gwanghwamun, you enter the most beautiful palace in Korea. It is a recently rebuilt replica, but the original palace was built in 1395 and was the King's home until its destruction during the Japanese invasion of 1592.
Every 2 hours, there is a changing of the guards which always draws big crowds. There are often free performances inside as well as galleries and a large museum to keep you busy. Keeping up with tradition, the 'jar room' which was used to ferment and store fresh food, is still in use today.
If you were to see a single thing in Seoul, I would recommend this one. However, seeing how you now know how awesome the city is, I am sure you will stay just a tad longer.
Julio
is a California native who has lived abroad since 2009 as an expat in South Korea and New Zealand. He is especially passionate about experiencing other cultures and visiting as many UNESCO World Heritage Sites as possible.
Latest posts by Julio Moreno (see all)